Thank You for Requesting Your Free Report: 13 Myths about Marriage, Divorce and Annulments in the Catholic Church
To download the PDF of the report, simply right-click on the document image below!
You may also click on or copy-paste this URL into the address line of your web browser: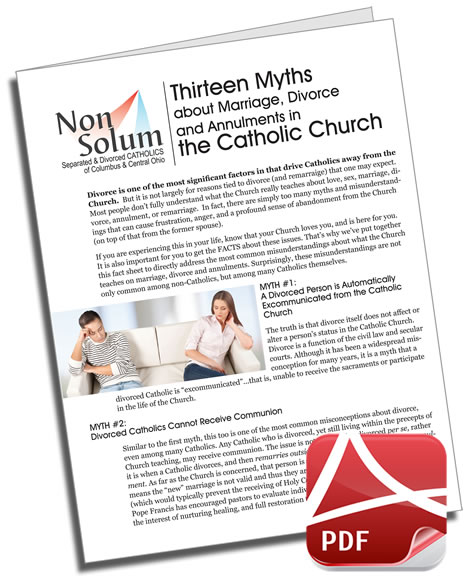 https://divorcedcatholiccolumbus.org/wp-content/uploads/2016/09/Twelve-Myths-about-Marriage-Divorce-and-Annulments-in-the-Catholic-Church-Non-Solum-Columbus.pdf
Non Solum Columbus is a pastoral community of separated and divorced CATHOLICS. Also found on Meetup, the apostolate and pastoral community formed in December, 2014 specifically to help reach out to those Catholics who don't want to see their faith go the way of their marriage. Its purpose is to provide love, support, guidance, and healing—by other Catholics who have experienced it themselves, and have faced similar challenges.
By requesting the above document, your email information has been added to our distribution list and you will be notified of announcements of future offerings of this program and other events. Please know that your information will be kept private, and you can unsubscribe from the list at any time.