Get Your Report – 13 Myths
FREE Download:
Thirteen Myths of Marriage, Divorce & Annulments in The Catholic Church
Divorce is one of the most significant factors that drive Catholics away from the Church. In fact, there are simply too many myths and misunderstandings–often among Catholics themselves–about the issue that lead to frustration, anger and sometimes, a profound sense of abandonment. If you are a Catholic experiencing marital separation or divorce, please know you are not alone. We are here to love and support you. Start healing today, by getting the FACTS. For example: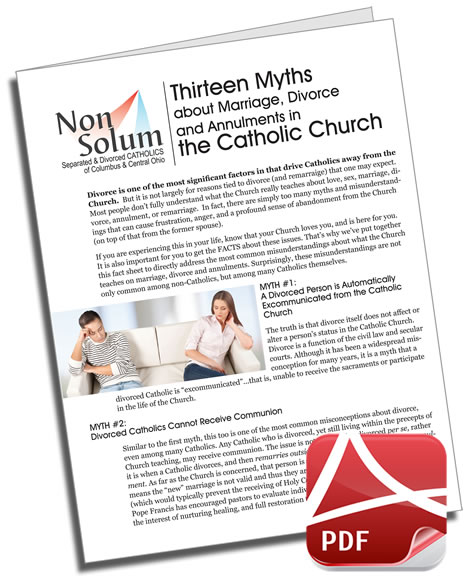 Divorce does NOT mean Excommunication…
Annulment Does NOT render your children "illegitimate"…
Even though you may have been abandoned by a spouse, your Church will NEVER abandon you!
©2019 Non Solum Columbus
Please know that we respect your privacy and will not share your information with ANYONE.